BIBS – Pacifiers (Pack of 2)
€9,95
A favorite for both moms and babies for over forty years, the bibs natural rubber pacifier allows your child to self-soothe by exercising their instinctive sucking instinct in the most natural way possible, by mimicking both the shape and soft materials of mothers' breast. Their classic appearance captures a look that is both timeless and elegant.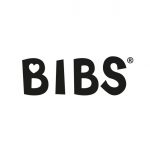 Additional Information
Always sterilize each pacifier before use.
For hygienic reasons, we recommend discarding pacifiers after 3-4 months.
100% free from BPA, PVC, and phthalates.
Curves away from the face for airflow.