Jack N' Jill – Stage 1 – Silicone Finger Brush 2 Pack
€5,50
Designed to help you introduce your baby to a simple and effective start towards good oral hygiene.
The silicone finger brush is ideal to gently clean your baby's teeth and gums, suitable for use with Jack N' Jill Natural Toothpaste. It is convenient for travelling and use on the go!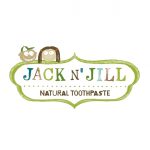 Additional Information
Direction for Use:
Use the 'brush' side for gentle cleaning of baby's teeth. Use the 'dimple' side to massage gums – great for teething gums!
Made from 100% food safe and medical silicone
Wash with warm soapy water or sterilize.
Store in a clean container
This is not a pacifier or teething device. Do not chew
Discard immediately if torn or damaged
Non-toxic, BPA Free