Gel Polish – Black Sesame
€14,99
Black Sesame: A bluish charcoal grey that is the perfect neutral when you're feeling a little black and white.
Our 3-in-1 gel polish combines base coat, color and topcoat all in one bottle! Cures in just 30 seconds with the macaron LED lamp.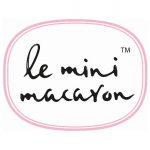 Additional Information
Our 1-Step Gel Polish:
– Our 3-in-1 formula combines base coat, color and top coat all in 1 bottle. And you don't even need gel cleanser!
– Get the brilliant shine and chip-free lasting of a salon-quality gel manicure at a fraction of the price!
– DIY your own gel manicure at home with our amazing formula, which dries in only 30 seconds!
– 1-step gel polish lasts up to 7-10 days. For easy removal, buy our soak-off remover wraps.
Follow these instructions for a perfect manicure:
1.File the edge and surface of your nail. Use nail polish remover and wipe away the dust and oils.
2.Apply a VERY thin (barely there) layer of gel polish.
3.Cure in the LED lamp for 30 seconds.
4.Apply a second layer of gel polish, and cure again. And that's it – you're done!