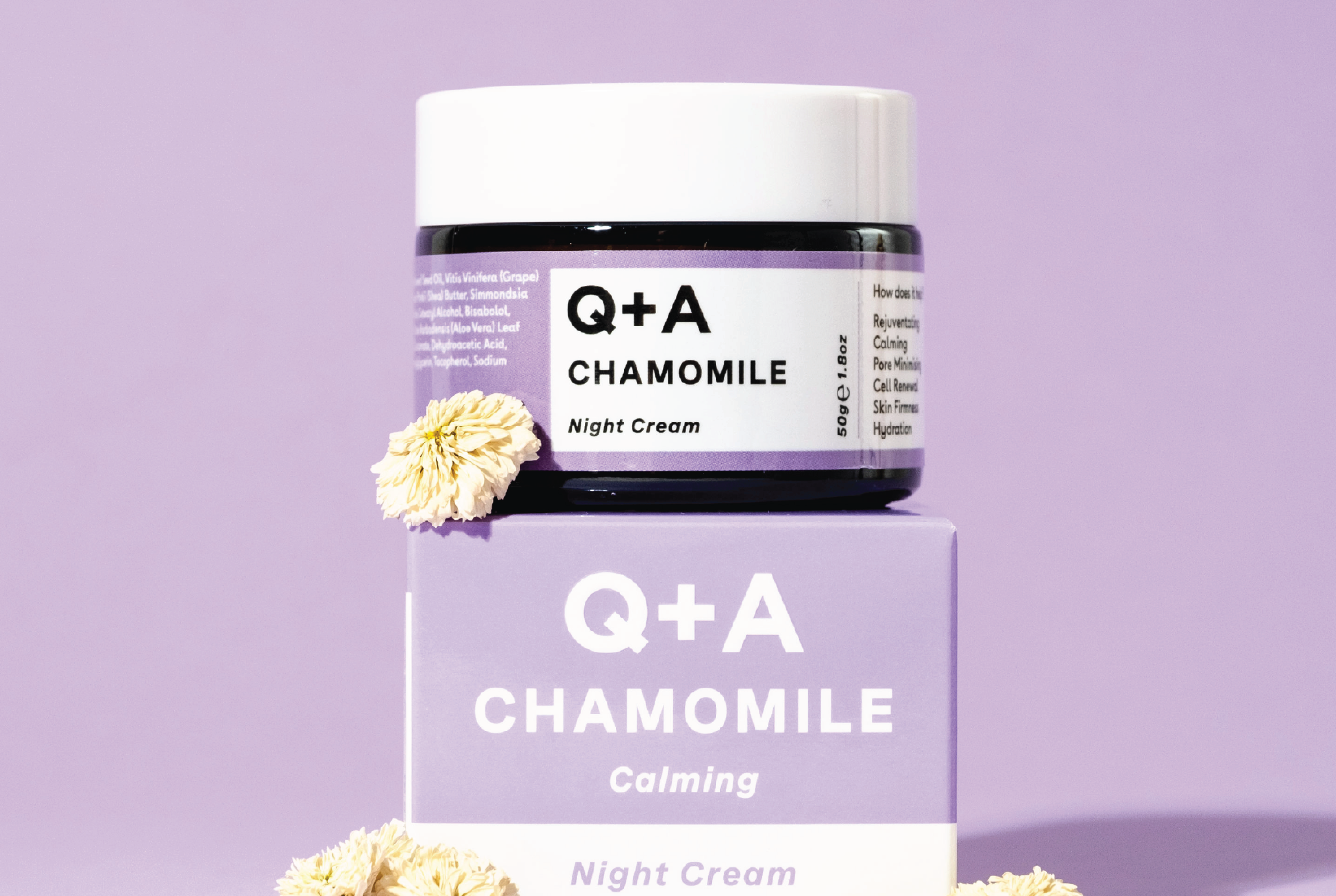 18 Oct

Q+A Chamomile Night Cream
The Overnight Secret to Calm and Rejuvenated Skin
We can guarantee we've all asked ourselves the same question: Do I really need a night cream in addition to my daily moisturizer?
We can easily answer you with a yes, however that doesn't really explain the 'Why' now does it?
The simplest way to explain it is by understanding that our skin has a protect and recovery phase.
In the morning, our skin needs to be prepped to protect our skin barrier from sun exposure, dust and pollution.
On the contrary, our skin does all the healing and rejuvenating in the evening, so adding a super beneficial night cream ensures you are giving your skin the right ingredients to work whilst you sleep, and strengthen your skin barrier to protect against moisture loss and daily irritants. Talk about your much needed 'Beauty Sleep'!
Q: What is Q+A Chamomile Night Cream and why should I use it?
A: Q+A Chamomile Night Cream is a 98.8% natural and vegan moisturizer that helps to calm and soothe your skin while you sleep. It contains chamomile extract, which has anti-inflammatory and antioxidant properties, Bisabol which is amazing for mature skin to work against pigmentation, as well as Jojoba Oil, which has a very similar structure to our own sebum to hydrate and protect your skin barrier.
Q: What are the benefits of Q+A Chamomile night cream and is it the best option for my skin?
A: Q+A Chamomile Night Cream can help to improve the appearance and texture of your skin by reducing inflammation, redness, and dryness. It can also help to prevent premature aging signs by boosting collagen production and fighting free radical damage. Another bonus to our cream is that it is also fragrance free, reducing further chances of irritation!
Q: How do I use Q+A Chamomile Night Cream?
A: You can use Q+A Chamomile Night Cream as the last step of your evening skincare routine. After cleansing and applying your toner and serum, gently massage a pea-sized amount of cream onto your face and neck.
PRO TIP
Dry or Sensitive Skin? Our Q+A Oat Milk Cream Cleanser- Winner of the Global Green Beauty Awards, is the perfect match to start off your evening skincare routine. Q+A'S Oat Milk Cream Cleanser has also been featured on The Stylist magazine, have a look 👀
You can also find both of these products included in the Sensitive Skin Bundle on our online store.
Shop Q+A Skincare