 03 Apr

Q+A Skincare: Caffeine Eye Serum VS Peptide Eye Gel

Get Glowing Skin this March with Q+A Skincare's Collagen Moisturizer and Vitamin ACE Warming Gel Mask

Q: What are eye creams and why do you need them in your skincare regimen?

A: An eye cream is a product specifically made to target your eye area, to help in minimizing and maintaining the appearance of fine lines, dark circles, puffy eyes as well as keeping the area as hydrated as possible. This is because the skin surrounding our eyes is the most fragile, therefore its commonly the first place to see signs of aging.

Q: Are eye creams necessary?

A: Whilst you can choose to only apply your moisturizer, it is not the ideal option. Eye products are specifically formulated for thinner and more sensitive skin to prevent milia. Eye creams won't irritate the eye area and they will also contain specific active ingredients to target certain issues.

Q: What are milia?

A: Milia, which are little white lumps, frequently develop under the eyes. Dead skin cells that get trapped beneath the top layer of skin cause them to develop. This is a consequence of applying the incorrect moisturizer around your eyes because it may be excessively rich and cause clogged pores. This is why it is recommended that you use eye serums or creams made specifically for the eye area.

Q: What's the difference between our Caffeine Eye Serum VS Seaweed Peptide Eye Gel?

A: Both our eye products are amazing at hydrating the whole area around your eyes, however they are differently formulated to bring you different benefits!

Pretty sure you can already tell from the name itself, that caffeine is not only great in giving you that boost you desperately need in the morning! Turns out, caffeine is great at reducing dark circles around the eyes, as well as minimizing puffy eyes in the morning.

So when you ask yourself "Which eye cream is best for dark circles and puffy eyes?" Ding ding ding!! Our Caffeine Eye Serum is your best solution.

Our 99.9% natural and vegan formula also contains key ingredients such as Green Tea Extract, which is an amazing antioxidant, as well as Pomegranate Extract which will help tone your delicate under eye skin to gently wave goodbye to your puffy eyes.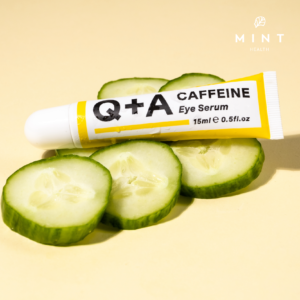 Our Seaweed Peptide Eye Gel is a naturally retinol-free eye gel. Packed with collagen building Pure-Peptides to help collagen production and slow down the appearance of fine lines. Our formulation also contains Aloe Vera, which creates a protective layer on this skin, resulting in locked in moisture, as well as Witch Hazel which soothes the skin and helps with any redness and irritation.
So when you ask yourself "What eye cream should I use as the best anti-aging eye cream?" TaDa!! Seaweed Peptide is your answer!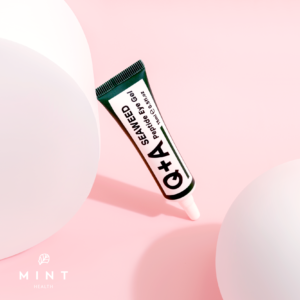 Q: How do I apply them? Eye cream or Moisturizer first?
A: Always consider product consistency!
Caffeine Eye Serum has a light, liquid texture, which we recommend applying before moisturizer in the morning.
Seaweed Peptide Eye Gel is a clear gel, which has a thicker consistency. It is recommended to be applied before your cream moisturizer, or after your lightweight water-based moisturizer. Apply morning and evening.
Always remember to apply products from thinnest to thickest consistency for best results!
Q: Where can I find Q+A Skincare?
A: Our full Q+A range including both Eye Creams are available from all leading pharmacies across Malta and Gozo!
Leave us a message at [email protected] so we can let you know where the closest pharmacy to you is.
However, we also have our own online store with free delivery for orders over €30!
PS: Our Normal Skin Bundle and Mature Skin Bundle both have an eye cream included, with guaranteed free delivery too!
Q: Want to see these products up close?
A: Head over to our Instagram to see more and don't forget to follow us for continuous juicy Q+A Skincare updates and offers ❤