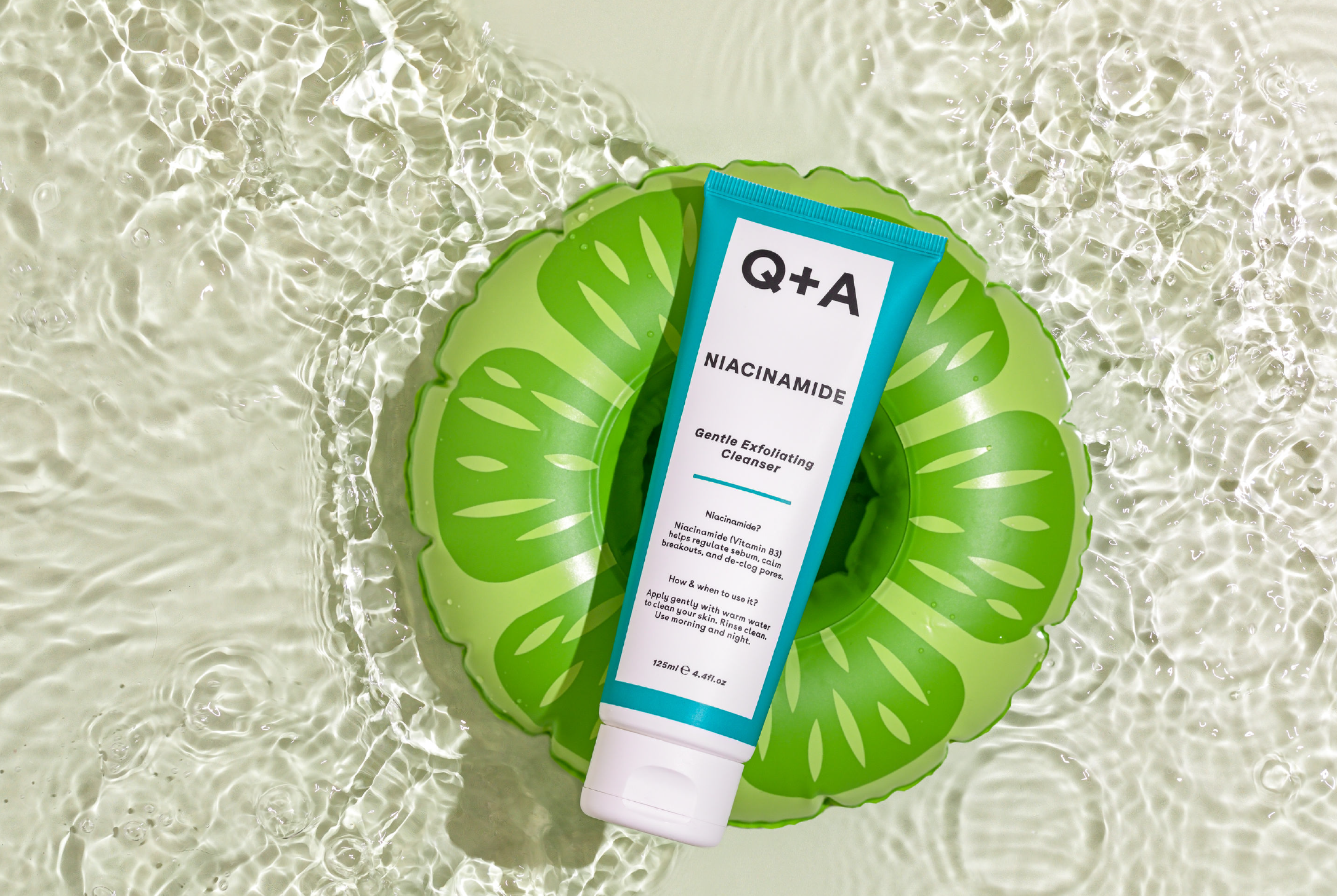 01 Jun

Q+A Summer Skincare Saviors – Niacinamide
Summer Skincare Saviors – Q+A's Niacinamide Exfoliating Cleanser and Niacinamide Daily Toner to the rescue!
Summer is around the corner, and just as the seasons change, our skincare needs change too!
Soon, we'll start to notice an unwelcome amount of oil on our faces. Don't you worry though! That's where our Niacinamide Cleanser and Niacinamide Toner come in!
Q: What is Niacinamide and how will it help me maintain a healthy glow this summer?
A: Niacinamide, also known as Vitamin B3 or nicotinamide, is a water-soluble vitamin. When applied topically, it helps in regulating the sebum (Our natural oil!) production, tightens the skin to help minimize the appearance of large or lax pores and evens out our skin tone. It's also a natural anti-inflammatory ingredient, so it's great for calming irritated and sensitive skin.
Q: What makes our Niacinamide Skincare Duo so special?
 A: Q+A's Niacinamide products are no ordinary duo!
To start off with, rather than having a highly concentrated serum, we have opted for a gentler, 2-step method for you to get your daily dose of niacinamide, without having to worry about getting any adverse effects.
Our Niacinamide products are also:
? 95% Natural Formula | ? Cruelty-Free | ? Alcohol-Free | ? Fragrance-Free | ? Vegan-Friendly
Niacinamide Exfoliating Cleanser – €9.00
Unlike harsh cleansers that strip your skin of its natural oils, this gentle exfoliating cleanser uses the power of niacinamide to maintain your skin's moisture balance while providing a thorough cleanse. Our Exfoliating cleanser also contains Jojoba esters, which are natural alternatives to microbeads. These help to exfoliate your skin very gently, helping the skin retain moisture and improving its barrier function without damaging it.
Niacinamide Daily Toner – €10.00
This powerful toner not only balances oil production but also improves the overall texture of your skin. Niacinamide, being a superstar ingredient, also helps as an anti-aging ally to reduce the appearance of fine lines, wrinkles, and hyperpigmentation.  The toner also includes one of our favourite ingredients, Hyaluronic Acid, as well as Aloe Vera.
 *Pro Tip : Applying our Hyaluronic Acid Serum straight after the Niacinamide toner, while your face is still damp, is the perfect solution for that extra boost of hydration!
How do I use my Niacinamide Cleanser and Toner?
Start your skincare routine with the Niacinamide Gentle Exfoliating Cleanser to cleanse and prep your skin and follow up with the Niacinamide Daily Toner to hydrate, balance, and refine your complexion.
These products can be used both in the morning and in the evening.
Want to know more?
We offer a 2-minute quiz that, based on your answers, will suggest the best products particularly for you and your skin type. Click here to test it out!
PS: Our Niacinamide Products are also part of the Oily Skin Bundle, as well as the Normal Skin Bundle, which will guarantee free delivery, right to your doorstep ?