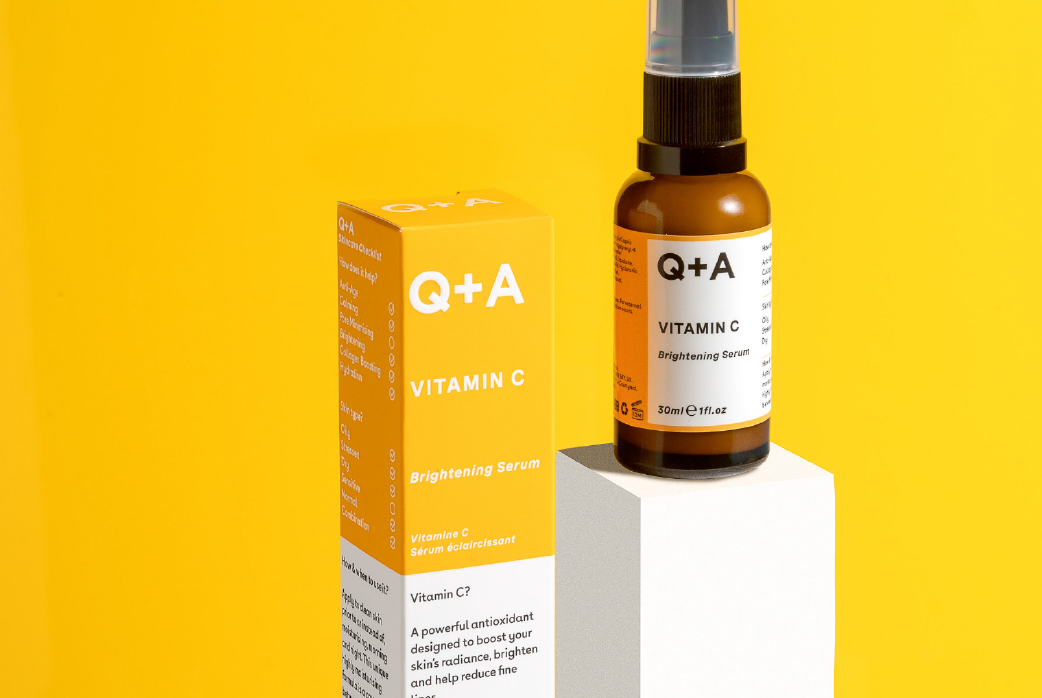 16 May

Q+A Vitamin C Brightening Serum
Boost Your Skin's Radiance with 
Q+A Skincare 

Vitamin C Brightening Serum

!
If you are looking for a way to brighten and revitalize your skin's complexion, you're in the right place! Look no further than our very own Vitamin C Brightening Serum which is available in Malta.
This powerful serum is packed with antioxidants and nutrients that can help improve your skin's tone, texture, and overall radiance as well as helping to fight off signs of wrinkles and aging!
Q: What is Vitamin C Brightening Serum?
A: Vitamin C, also known as Ascorbic Acid, is mostly known for boosting your immunity, but what about applying this magical ingredient on your skin?
Q+A Vitamin C Brightening Serum is formulated with Vitamin C, also known as Ascorbic Acid, and it's this pure version you'll spot on our product ingredient list rather than any of its derivatives. It is a potent antioxidant that can help protect the skin from dark spots and pigmentation, as well as collagen degradation, making this serum an anti-aging must have.
The serum also contains other beneficial ingredients such as hyaluronic acid, which can help improve the skin's texture, boost hydration, and reduce the appearance of fine lines and wrinkles.
Q: What's the difference with Q+A's Vitamin C Serum?
A: Our Vitamin C serum is no ordinary serum!
As you might already know, Vitamin C can very easily go bad when it comes in contact with oxygen and sunlight. This is called oxidization. To make sure our Vitamin C Serum remains effective from the first drop to the last, we have encapsulated the Ascorbic Acid in a unique blend of volcanic soil and hyaluronic acid to keep it highly stable. 
Q+A also offers a dark brown glass packaging to minimize sunlight exposure, and unlike most of the popular brands, we also avoid contact with oxygen, hence, our serum does not come with a pipette applicator, but with a pump. This way Q+A Vitamin C Serum will remain beneficial until your last drop!
Q: What are the benefits of adding a Vitamin C Serum to your skincare regimen?
–Brightening and evening out skin tone
–Reducing the appearance of pigmentation and removing dullness
–Boosting collagen production for firmer, smoother skin
–Protecting the skin from environmental stressors like pollution and harmful UV rays
Q: Is Vitamin C Brightening Serum suitable for all skin types?
A: Vitamin C Brightening Serum is suitable for all skin types; however, we do recommend that if you have sensitive skin, you may want to patch test the serum before applying it to your face to make sure there will be no reactions.
To patch test, simply apply the product on the area where the jawline meets your ear. Leave it on for 24 hrs. For extremely sensitive skin, it is recommended to repeat the patch test for 48hrs.
Q: How and When do I use Vitamin C Serum?
A: Our serum is a hybrid between a serum and a lotion, so to use Q+A Vitamin C Serum, shake well before use. Apply to clean skin prior to, or instead of moisturizing. Our formula can be used both day and night.
PS: For added anti-aging and moisturizing benefits, our Vitamin C serum is excellently paired with our Collagen Cream.
Q: How much does Q+A Vitamin C Brightening Serum Cost?
A: Our vegan and cruelty free Vitamin C Serum can be bought for €10.80. So, when purchasing this product, you will be taking care of your skin's radiance as well as your budget ?
Q: Where can I find Q+A Vitamin C Serum near me?
A: Q+A is available across Malta and Gozo at your nearest pharmacy. Should you wish to remain in the comfort of your own home, we are also available online here, where we offer free delivery for orders over €30!
The Vitamin C Brightening Serum is also part of the Normal, Combination, and Mature skin bundles which offer guaranteed free delivery
Q: Want to see this product up close?
A: Head on over to our Instagram and follow us for constant product updates and info ❤