Jack N' Jill Natural Toothpastes
€4,99
We know how hard it is to get young ones to brush – or allow parents to brush – which is why we want it to be a yummy and fun experience for them, as well as safe!
Jack N' Jill Natural Toothpaste is completely safe to swallow and comes in seven varieties of certified organic flavours; Raspberry, Banana, Strawberry, Berries &Cream, Blueberry, Blackcurrant & Flavour Free.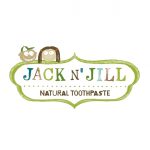 Additional Information
Ingredients:
Certified organic calendula (which helps soothe gums) and Xylitol (a natural cavity fighter).
Free from GMO and Palm Oil Derivatives
Net Weight:
1.76oz/50g