EatEnjoy Gluten Digestive Enzyme Supplement
€9,99
If the presence of gluten stops you enjoying food, whether you suffer from gluten allergy, intolerance or symptoms of discomfort, EatEnjoy Gluten can help.
EatEnjoy is made of a special and unique blend of enzymes that help support the healthy digestion of gluten proteins to relieve bloating, stomach cramps and discomfort.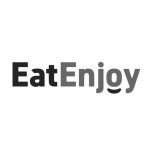 Additional Information
Pack Size:
20 capsules
Recommended Dose:
One capsule before or during eating a meal containing gluten. Do not take more than 3 capsules per day.
Food supplements are not intended as a substitute for a varied and balanced diet. A balanced and varied diet and a healthy lifestyle are important for your health.
This product is not intended to diagnose, treat, cure or prevent coeliac disease or any other digestive disorder, nor is it a substitute for gluten-free food.
It is not recommended for children, people hypersensitive to any of the ingredients present in the product, as well as pregnant women and babies.