Vit2Go – Hangover Aid
€14,90 – €44,70
We understand that things can be a little fuzzy after a night out, so Vit2Go! made it as easy as possible for you to take advantage of these amazing perks.
HangoverAid supports liver function, reduces toxins, prevents dehydration and loss of nutrients due to the consumption of alcohol and supplies electrolytes and vitamins to promote overnight revitalisation.
*Available in packs of 10 and 30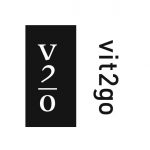 Additional Information
Recommended Dose:
Mix contents with at least 200ml of water or juice and stir. Take prior to the consumption of alcohol, or prior to bedtime, and additionally the morning after. Do not exceed recommended daily dose of 1 packet per day.
Ingredients:
Choline, kudzu root, cactus fig, milk thistle, ginseng, L-cysteine, vitamins, minerals and trace elements.
100% vegan
Store in a cool, dry place, out of the reach of children
Food supplements should not be used as substitute for a varied diet. Seek professional advice before using if you are pregnant, breastfeeding, under medication, or suffer from food allergies.