Vit2Go – Natural Energy Booster
€14,90 – €44,70
Vit2go ENERGY is here to put the pep back in your step. The ENERGY from Vit2go is a stimulating, refreshing beverage whose natural caffeine is derived from guarana and for this reason particularly mild and long-lasting in its effects.
The vitamins, electrolytes and amino acids contained in ENERGY are perfectly harmonized with one another to restock your nutritional reserves, which makes it an ideal daily beverage with a natural and highly effective stimulating effect. So you stay alert and healthy!
*Available in packs of 10 or 30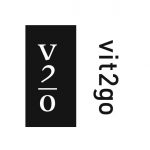 Additional Information
Recommended Dose:
Mix contents with at least 100ml of water or juice and stir. Do not exceed the recommended daily dose of 1 packet per day.
Ingredients:
Caffeine 124mg, Natural Guarana and Taurine, 8 B-Vitamins and 4 Amino Acids, Calcium, Magnesium, Selenium, Zinc, Vitamin K, Vitamin D3, Vitamin A, Natural Ginger and Lime Extract
100% vegan
Store in a cool, dry place, out of the reach of children
Please remember that ENERGY contains a high amount of caffeine and should be consumed in moderate amounts.
If you are pregnant, a nursing mother or are on any kind of medication consumption of food and drink containing caffeine is not advised.
Mixing alcohol and beverages containing caffeine is a health risk and is particularly not recommended.
Food supplements should not be used as a substitute for a varied diet. Seek professional advice before using if you are pregnant, breastfeeding, under medication, or suffer from food allergies.