Vit2Go – Immune System Booster
€14,90 – €44,70
With IMMUNITY, you won't have to worry about viruses, bacteria or colds anymore and can live your life to the fullest.
A refreshing beverage powder with high doses of vitamins, minerals, amino acids, and other good nutrients. With natural orange and ginger extract, this drink is perfectly balanced, so it can boost your immune system and prevent a lack of nutritional substances.
*Available in packs of 10 or 30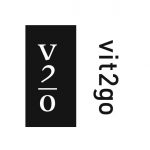 Additional Information
Recommended Dose:
Mix contents with at least 100ml of water or juice and stir. Do not exceed the recommended daily dose of 1 packet per day.
Food supplements should not be used as substitute for a varied diet. Seek professional advice before using if you are pregnant, breastfeeding, under medication, or suffer from food allergies.
Ingredients:
Vitamin C 300 mg, Vitamin D, Vitamin K and 210% RDA of Zinc, 8 B-Vitamins and Amino Acids, Calcium, Iron, Selenium, Vitamin A, Natural Ginger and Orange Extract
100% vegan
Store in a cool, dry place, out of the reach of children